Tell us more about you.
We'll get you to the right place.
HOA has become a dirty word.
We believe it's time for change.
Keystone is changing the game in HOA management by empowering communities to re-connect. We do this through community managers who actually care and intuitive HOA management tools that fit into your fast-paced life.
We're all about people
who are all about you.
Great people solve problems before you know they are there, get you what you need in real time and re-connect you to where you live.
Keystone Spotlight
Danielle Salinas
"It's very rewarding to know that the 110-point transition checklist that I created and implemented helps to successfully transition new community associations to Keystone, setting both the community manager and the board of directors up for success."
Area of Expertise
Community Management & New Account Transitions
Keystone Team Member Since
2014
HOW TO SPOT
Her keen eye for detail, mad organizational skills, and servant leadership
We're about tools that
make your life easier.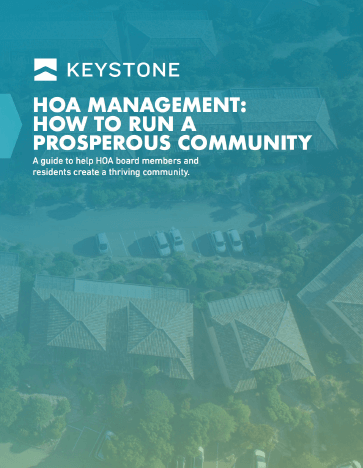 Free Guide:
HOA Management: How to Run a Prosperous Community
Download our free guide to see how HOAs can positively impact your community and help maintain your property values.
As a homeowner living in our community, as well as serving on the Board, working with Keystone Pacific for the past 18 years has been an enjoyable experience because of the positive impact and commitment all our managers have had. The caring attitudes from every one are apparent. We could not have developed into the wonderful community we are today without your guidance, advice and teamwork.
Board President Aliso Viejo, Single Family Home Community
Since my appointment to the Los Serranos Ranch HOA in December 2010, I have dealt with Keystone Pacific and their representative. They have been outstanding in representing the needs of the community. Since our board members are volunteers, we require an organization that is knowledgeable and professional to handle the day-to-day operation of our housing development. I would highly recommend Keystone Pacific for your community management needs.
Board President, Chino Hills, Single Family Home Community
Our community manager and her team at Keystone Pacific have done an outstanding job keeping our community beautiful. She is timely in responding to incidents and works closely with the Board to help us mange the property. Through Keystone Pacific's management they have allowed the Board to concentrate on the issues that matter most while removing much of the administrative burden. We have seen this commitment to quality service with all the community managers throughout the 19 years they have been managing our property.
Board Treasurer, Anaheim Hills, Master-Planned Community
I want to thank you and express my appreciation for all your assistance re:  the removal of the Brazilian pepper tree on the slope. I am truly grateful.  
Homeowner, Irvine, Single Family Home Community
Do HOA better.
Have a question? Need more info? Just wanna say hi? We're a friendly crew, always here to help!